Peak Construction & Design, Inc. can help you create a new bathroom surround and tile floors in your house.  Choosing the right tile and grout is very important for the overall look.  Call Chris Nelson today for more information 760 668 3991.
Information provided by:  http://www.houzz.com/ideabooks/12892001/list?utm_source=Houzz&utm_campaign=u302&utm_medium=email&utm_content=gallery7
3 Key Steps for Grouting That Looks Its Best
Get your grout right to keep your tile beautiful and for an installation that will last
If the only thought you've given to grout is what color it should be, you may be in for a nasty surprise down the road. There's a lot to consider: A great grout job can save a poor tile installation, and a poor grout job can ruin a great tile installation.
In order for grout to be installed well, the tile and substrates need to be installed well, too. Make sure that your tile is suitable for showers — I've seen a growing trend of poorly made tiles sold in sheets that are not suitable for a wet environment.
Some sheet tiles use pressed paper as one of the reinforcement materials; others use water-based adhesives — both break down with exposure to water. Everything in your shower should follow the appropriate Tile Council North America (TCNA) or Terrazzo, Tile and Marble Association of Canada (TTMAC) specifications.
It sounds scary, but don't get intimidated — three simple steps can help ensure that your grouting will be successful and that your new shower will perform beautifully.
1. Find the Right Type of Grout
Choosing the right grout has a lot to do with your tile's recommendations.
Cement grouts tend to be more affordable and are easier to work with, but many require a sealant. This grout comes in sanded and unsanded versions to work with different grout joint widths.
Calculate how much grout you need exactly and then get a safety net of 25 to 50 percent more. If multiple bags are needed, always blend all the cement together prior to mixing the first batch for an even grout color all throughout your bathroom.
Tip: Be careful when working with tiles like glass. Test grouts on a sample board to make sure you have a grout that won't scratch the tile face.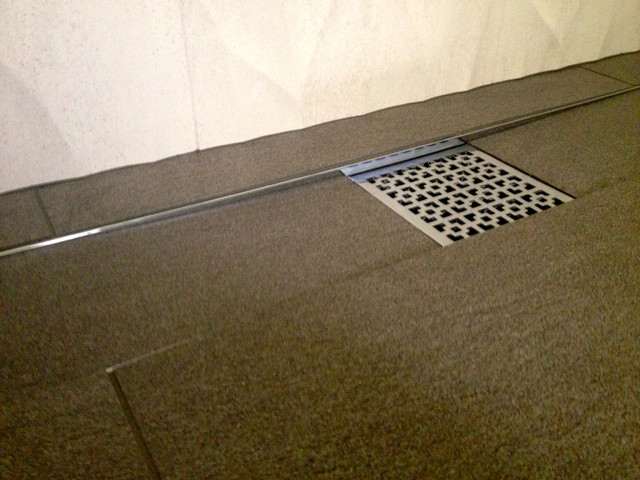 2. Grout Your Sample Board
Mark English, a San Francisco architect, spoke with me about his approach to grouting. Like many professionals, English makes sure to work with sample boards before any installation. The specified grout and tile are prepared on a board and submitted to the client for approval.
Sample boards are vital for safety, durability and aesthetics. If you haven't seen your tile with a grout sample, you won't know if you'll even like the spacing between the tiles when it's grouted — grout joints often look larger when a tile has a beveled or eased edge.